more news
Business Students and Alumna Work in VIP at Coldplay Concert in Pittsburgh
Thursday, August 18, 2016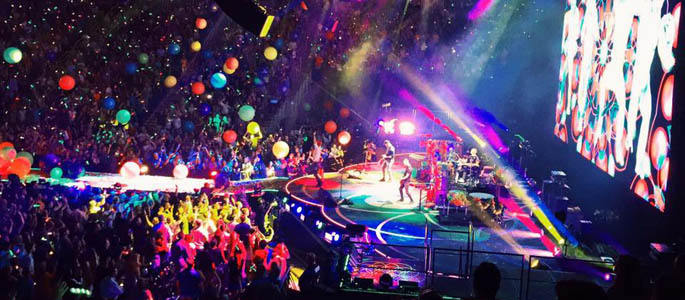 School of Business undergraduate students Jaron Andrechak, Kylie Koch and Caitlin Leasure, along with M.B.A. alumna Rachel Vigliotti, were selected to work in VIP services at the Coldplay concert August 5.
The sold-out concert was held at the CONSOL Energy Center in Downtown Pittsburgh.
"Working with the crew who are touring with the artists is fascinating. It's so interesting to get a glimpse of what it really takes to put on a show like Coldplay does. It's exciting to be around that kind of energy," explained Leasure, a sports, arts and entertainment management major.
"My favorite part was working with Caleb Petersen, Live Nation's VIP tour manager. I liked hearing his story about how long he has worked on tours and answering his questions about what living in Pittsburgh was like," Vigliotti said.
With his many years of experience working in live entertainment, SAEM Associate Professor Ed Traversari, frequently connects Point Park students and alumni to various opportunities in the field.
"Ed Traversari is really great to work with and a good contact to have within the sports and entertainment field. Whenever we need students to help us out at shows, he pulls through for us. We trust him to provide us with individuals who are responsible and hardworking," remarked Anna Bixler, special events manager for AEG at the CONSOL Energy Center.
Over the past couple years, Point Park students and alumni have worked at many concerts and shows in Pittsburgh including those listed below.

Read about their experiences:
Bixler added: "The Point Park students and alumni who have helped me with the VIP programs are always professional and eager to help out. You never know what connections you may make with experiences like these, so it's great to see these students and graduates putting in the time and gaining experience in the entertainment field."

Lead photo by Angela Thomas, SAEM major
More About: sports, arts and entertainment management, Rowland School of Business, alumni, Downtown Pittsburgh, M.B.A.