more news
Point Park University Celebrates its Outstanding Students at 2017 Awards Banquet
Friday, April 28, 2017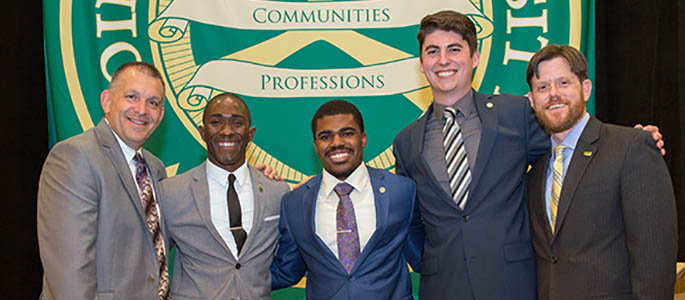 Point Park University students were recognized for their academic excellence, talent and leadership at the 2017 Outstanding Student Awards banquet April 21 at the Fairmont Pittsburgh.
Jess Paterchak, a broadcast production and media management major from Blackhawk High School in Chippewa, Pa., received the Sophomore Emerging Leader Award.
"There are not enough words to explain how much this award means to me," Paterchak said. "The hooks life has tried to throw at me have not stopped me from continually persevering and making a name for myself, and I have Point Park to thank for that."
"It means the world to receive the Sports, Arts and Entertainment Management Academic Excellence Award, especially knowing that it came from my professors," said Caitlin Leasure, a senior from Penn-Trafford High School in Harrison City, Pa. "Point Park has been the most wonderful coming-of-age experience."

Senior McKenzie Wilson from Carroll High School in Dayton, Ohio, received the Intelligence and National Security Academic Excellence Award.
"My time at Point Park has made me more passionate about my field of study, and even more excited to enter the workforce than before," Wilson said. "It's really nice to be recognized for the hard work that you do."
"Receiving the Forensic Science Academic Excellence Award helps to represent the hard work I've done at Point Park," said Alex Pochiba, a senior from McGuffey High School in Claysville, Pa. "I would really like to thank the entire criminal justice and intelligence studies department for their dedication to their students' success."
Earlier in the evening, Point Park inducted 19 new members into the Alpha Chi National College Honor Society. The students are juniors and seniors who were selected based on their grade point averages.
2017 Point Park University Student Award Recipients
Academic Excellence
School of Arts and Sciences
Kellie McIntyre, Criminal Justice
McKenzie Wilson, Intelligence and National Security
Alex Pochiba, Forensic Science
John Kaufmann III, Education
Lena Faustel, Humanities and Human Sciences
Cassie Bruno, Literary Arts
Paul Glance, Natural Sciences and Engineering Technology
School of BusinessSchool of CommunicationConservatory of Performing Arts
Olivia Shipman, Cinema
Annette Elphinstone, Dance
Maggie Crockarell, Theatre
Co-curricular Awards
Student Media: Outstanding Contribution
Iain Oldman, The Globe
Trever Sheets, WPPJ
Blaine King, U-View
Maggie McCauley, PRSSA
Alexandra McCanna, Ad Federation
Chloe Jakiela, NPPA
Julianne Griffith, The Photo Collective
Jessica Federkeil, Point Park News Service
Neil Strebig, Wood Street Communication
Selena Hurst, The Fix Photo Magazine
Honors Program: Outstanding Seniors
Anna Livia Rice
Sierra Zellmer
Don Kelly Student Athlete Leadership AwardStudent Affairs
Emily Bennett, Hannah Hepler, Emily Yount and Enrico Caparelli, Outstanding Resident Educators
Adam Rossi, Pioneer Ambassador
Samantha Perez, Freshman Emerging Leader
Jessica Paterchak, Sophomore Emerging Leader
Megan Law, Outstanding Student Organization Officer
Kelsey Wolfe, Outstanding Student Organization Member
GSSA, Outstanding Student Organization
Phi Beta Lambda, Outstanding New Student Organization
10th Leading Cause, Program of the Year

Colten

Gill, Campus Activities Board
Blaine King, United Student Government
Joshua Croup, Outstanding Student Leader
Point Park University Alumni Association
Laura Miller, Distinguished Doctoral Student
Colten Gill, Distinguished Undergraduate Student
More About: Penn-Trafford High School, Conservatory of Performing Arts, School of Arts and Sciences, Outstanding Student Awards, Rowland School of Business, School of Communication