more news
SAEM Students Work at Big Concerts This Summer, Host Production Running 101 Workshop
Friday, September 22, 2017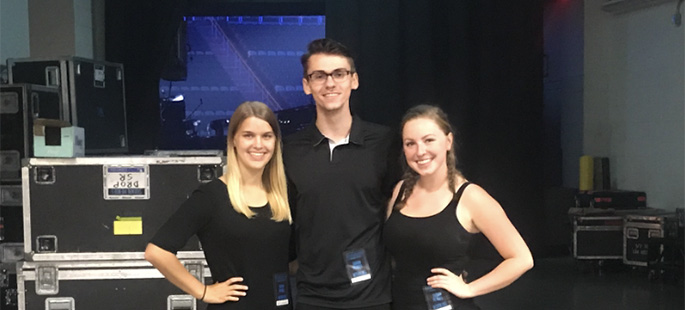 L to R: Julie Bowser, Jaron Andrechak and Samantha Exler at the Shawn Mendes concert

Sports, arts and entertainment management students worked behind the scenes at some of the biggest concerts and music festivals this summer including Bruno Mars, Shawn Mendes, Chance the Rapper, Farm Aid, The Chainsmokers, James Taylor, The Total Package Tour with NKOTB, Boys II Men and Paula Abdul and more.
SAEM Associate Professor Ed Traversari, M.B.A., connected the students to many of these summer shows based on his connections with concert promoters AEG at PPG Paints Arena, Live Nation, Drusky Entertainment, Opus One, Grey Area Productions and Stage AE.
"It's great to see so many of our students taking advantage of these unique opportunities. There is no better experience than being there and doing it," Traversari said.
Hear From the Students
SAEM majors discuss below their experiences working in the live entertainment management field this past summer as production runners and VIP assistants.
Jaron Andrechak, SAEM junior
Shawn Mendes concert
"My job for the day was actually to be Shawn's personal driver! It gave me great experience being a runner for a large show as well as working in a high-pressure situation."
Samantha Exler, SAEM sophomore
Shawn Mendes and Bruno Mars concerts; working at Katy Perry concert Sept. 22
"Having these experiences on my resume is going to help me stand out from other applicants. We're lucky to have Professor Ed Traversari at our school to help connect us with people at AEG and Live Nation. He always helps us get amazing opportunities!"
Kylie Koch, SAEM senior
Bruno Bars concert and Farm Aid music festival
"Both of these experiences taught me so much about the detail that goes into working in the industry. It was great to be able to work with music industry professionals and hear stories on how they achieved their goals."
Ericka Thomas, SAEM senior
Hangout Music Festival Firefly Music Festival and Panorama Music Festival
"These events taught me a lot about the music festival business and helped me expand my professional network. I learned that there are major differences between running a single day show compared to a four-day festival."
Production Running 101 Workshop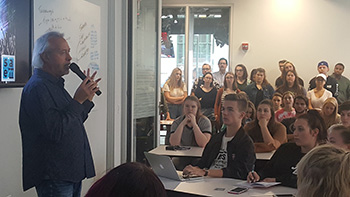 Traversari discussed production running with more
than 80 PointPark students. Photo by SAEM
Associate Professor David Rowell
Pioneer Records student apprentices Ericka Thomas, Kylie Koch, Amber Montz and Mariah Gigler hosted a workshop at Point Park's Center for Media Innovation Sept. 13 focused on production running in the live entertainment business.
At the workshop, Traversari gave an overview to more than 80 students on what to expect if they become concert runners.
"Production running is something that almost everyone has done at one time or another if they've worked in the entertainment business. It's a great opportunity for students to not only make some money, but also gain valuable hands-on experience working in live entertainment," Traversari explained.
Also at the workshop, SAEM senior Baylee Zimmerman discussed with students the networking and other career building opportunities available within the SAEM Club.
Learn More
Point Park University SAEM students and alumni have worked as production runners and VIP assistants at many concerts and other events in Pittsburgh within the past couple of years, including those listed below.
Read about their experiences:
More About: Pioneer Records, PPG Paints Arena, Center for Media Innovation, student workshop, Rowland School of Business, sports, arts and entertainment management