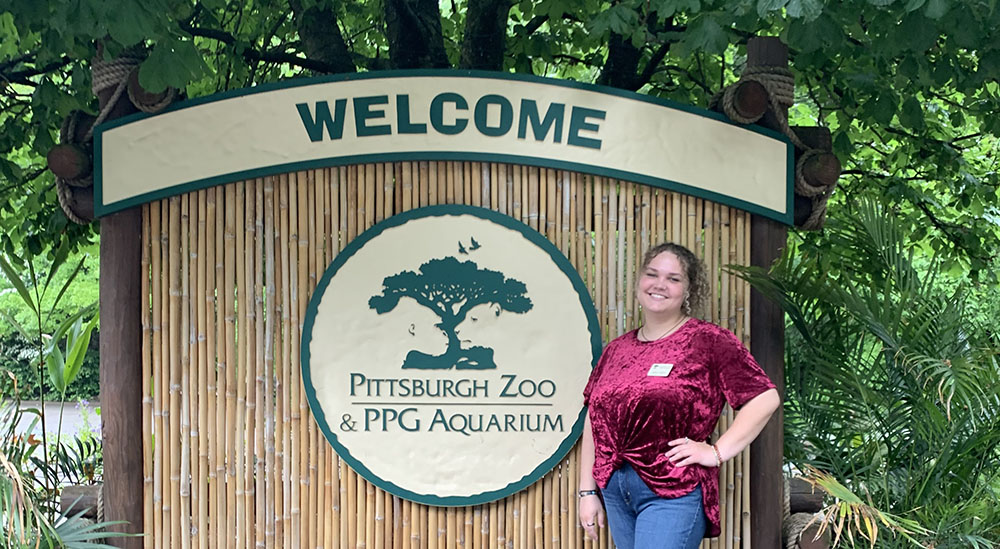 Internships and other hands-on opportunities in the SAEM program give students the chance to gain experience with event management companies, talent agencies, film studios and more in locations like New York City, Los Angeles and internationally, as well as in Downtown Pittsburgh. Learn more about these internship and career-related experiences from the SAEM students featured below.
Vicie Simpson
Marketing, Communications and Advertising Intern for Garrison Hughes, Oyster Creates and Covalent's Big IDEA Internship
"The internship provided me with three different perspectives on marketing, communications and advertising. Obtaining that knowledge will undoubtedly help me have a stronger resume when looking for a job that requires those various skills." Read about Vicie's internship experience.
Kyle Anderson
Sales and Marketing Intern for Erie Otters Hockey Club
"Being in a large city creates more opportunities for the career path that I have chosen. I have visited and worked in all the venues in Pittsburgh either from my experiences in class or through other networking events. I can truly thank Point Park for that as the faculty have given me the knowledge, connections and desire to want to dive into the SAEM industry." Read about Kyle's internship experience.
Bess Saunders
Special Events Intern for Allegheny County
"Going to school in Downtown Pittsburgh has opened so many opportunities for me. Between all the businesses that are here and the many different events that happen, there is always something to volunteer for or a job opportunity." Read about Bess' internship experience.
Erin Skiff
Marketing Intern for Attack Theatre
"I enjoy gaining valuable perspectives in business from multiple angles. The SAEM program provides a multidisciplinary approach to understanding the business world so that you can begin to unfold what interests you most about business and management within SAEM." Read about Erin's internship experience.
Mara Meyer
Social Media Intern for Misra Records
"Point Park has allowed me the opportunity to learn every aspect of the industry so I can find where I truly fit and having the opportunity to intern at Misra for two semesters solidified my career goal to continue to work at a label." Read about Mara's internship experience and more.



Bryana Appley
Event Intern for Women Who Rock Pittsburgh
"The fact that I was able to complete, for credit, an internship focused on empowering women in the music industry was unfathomable." Read about Bryana's internship experience and more.



Samantha Exler
Entertainment PR Student Associate for Madison Square Garden
"Pittsburgh was the perfect stepping stone for living in a big city like New York. I went from living in the suburbs, to a small city, to a major city. I felt very prepared to step out of my comfort zone because of how well I adjusted at Point Park." Read about Samantha's experience.



Julie Bowser
Agency Intern

for the Television Academy Foundation

"My sports, arts and entertainment management major helped me get selected for the Television Academy Foundation's 2018 Internship Program because it demonstrated my passion for the entertainment industry. Since this major is so unique, it helped set my application apart from the others." Read about Julie's experience.

Mitchum Donatelli
Entertainment Operations Intern

for Heinz Field

"Because of its Downtown Pittsburgh location, Point Park has much to offer with its proximity to professional and collegiate sports teams, theatres and the Cultural District, concerts, restaurants, various businesses and large corporations." Read about Mitchum's experience.

Cristy Crawshaw
Development Intern for The Pittsburgh CLO
"My SAEM classes have helped a tremendous amount right from the beginning — from interview techniques to professionally building relationships with customers and donors in the workforce." Read about Cristy's experience.

Taren Lumley
Donor Services Intern for The Pittsburgh Foundation
"I feel that my sports, arts and entertainment management classes have given me a mix of skills that make me a versatile professional. I now understand how events are run or how to market something." Read about Taren's experience.

John Blattenberger
Partnership Marketing Support Intern for the Pittsburgh Penguins
"My SAEM classes have given me insight into what to expect working in the real world. The classes are very hands on and the professors know the industries because they have worked in them." Read about John's experience.

Cassandra Crisp
Talent Intern for the CONAN show
"After graduation, I would like to move to Los Angeles and be a concert promoter or have some kind of touring job. There are just so many areas in the entertainment industry that I am interested in pursuing." Read about Cassandra's experience.
 
Sydney Patton
Public Relations, Design & Special Events Intern for Gamut Theatre Group
"Each SAEM class I've had so far has helped me tremendously for this internship. Taking Marketing and Promotions with Professor David Rowell and Digital Marketing with Professor Paige Beal was extremely helpful when it came to the marketing side of my internship. Additionally, Event Management with Professor Teresa Gregory prepared me for lots of encounters I had with vendors." Read about Sydney's experience.

Alyssa King
Visitor Services Representative for Rock & Roll Hall of Fame
"I hope to one day work for awards shows like the Grammys, Emmys, Tonys, etc. I've always been intrigued by that line of work. I know that with the tools I've been given at Point Park, anything is possible. The beautiful thing about having an SAEM degree is that there are so many paths you can take." Read about Alyssa's experience.
 
Megan Thorpe
Social Media Intern for Love Social Media
"From the beginning of my college career, Point Park's faculty have been wonderful. It is very easy to get in contact with a professor if you have a question, and they go above and beyond to help you out with academics and outside opportunities."  Read about Megan's experience.
Brittany Bishop
New Media Intern for the Pittsburgh Penguins
"My career goal is to work for an NHL team in their new media department and be able to do what I am doing now as an intern, but for the rest of my career. I think my SAEM classes have already helped me. I've already met so many incredible people in the program." Read about Brittany's experience.
Amber Montz
Stage Manager for Raleigh Convention Center events (Summer 2016)
"The faculty at Point Park really focus on making sure you know what you will need to know for your future career and are always there to help." Read about Amber's experience.

Molly Knepper
Production Assistant for Launch Music Conference and Adventures in Wonderland
Street Team Member for Fearless Records
"My SAEM classes have prepared me in so many ways. I've learned that no matter if it is a simple job or major job you must pay attention to every detail — I have Professors Paige Beal and Teresa Gregory to thank for this." Read about Molly's experience.


Emily Maxwell
Special Events Intern for the Cystic Fibrosis Foundation

"They say that in a nonprofit you wear many hats. I was able to put on every hat that I was asked to wear because of the experiences I have had in my SAEM classes." Read about Emily's experience.
 
 
Angela Thomas
Journalist for Stage Right Secrets

"With an SAEM degree, there is so much you can do with it. I'm focusing on entertainment and the music industry. I would love to work for a record label either on the marketing team or as a publicist." Read about Angela's experience.

Sean Dillon
Media Relations Intern for the Pittsburgh Penguins

"In one of my SAEM classes, I wrote a press release that I ended up using almost word for word in my internship. Additionally, my classes in sports management have taught me how to work professionally with athletes." Read about Sean's experience.
 
Stone Swiess
In-Game Entertainment Video Producer for the Pittsburgh Penguins

"Point Park has given me the confidence to step out of my comfort zone to chase jobs. Do everything you can to get involved at school, and then branch out and apply the things you've learned in a professional setting." Read about Stone's experience.
 
Evan Pearson
Promotions Intern for Pioneer Records

"My main responsibility at Pioneer Records is getting our artists booked at a variety of different events. These events can be small music festivals, clubs and other local music venues." Read about Evan's internship experience.
 

Colten Gill
Marketing & Special Events Intern at Pittsburgh Downtown Partnership

"I work with the marketing and special events managers and VP of marketing to publish a weekly newsletter promoting events going on Downtown. In addition, I help manage the PDP's social media accounts, which have more than 50,000 followers." Read about Colten's internship experience.

Töve Johnson
Administrative/Production Intern at Attack Theatre

"My current internship responsibilities involve researching how websites are built, working with html code and understanding how Attack Theatre's current website works." Read about Töve's internship experience.
 
Mary Beth Cartier
Special Events Intern at Pittsburgh Symphony Orchestra


"I decided to move back to Pittsburgh to attend Point Park University specifically for the sports, arts and entertainment management major. I knew that this major would not only teach me business skills, but would also give me the specific tools needed for running a venue and doing marketing for shows." Read about Mary Beth's internship experience.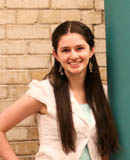 Amber Flevaris 
Gene Kelly Awards Intern at Pittsburgh CLO


"When I decided I wanted to work in the entertainment management industry, I looked at many different schools, but Point Park stood out to me the most. I was sold by Point Park's city atmosphere, its breadth of knowledgeable professors still working in the entertainment industry, the uniqueness of the SAEM major and the close proximity of the Cultural District to campus." Read about Amber's internship experience.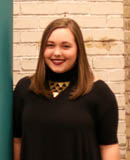 Logan Farren
Gene Kelly Awards Intern at Pittsburgh CLO


"All of my classes at Point Park have helped me to develop my organizational and professional skills … The SAEM curriculum encourages students to network and converse with professionals so I already had solid experience in this area." Read about Logan's internship experience.
Brooke Perkins
Marketing Intern at the Andy Warhol Museum


"I liked how coveted the jobs in the sports, arts and entertainment industries make for a competitive atmosphere among my peers. In a way, these jobs are just as highly regarded as the material they promote." Read about Brooke's internship experience.
Troy Johnston
Event Operations Intern at Heinz Field


"Freshmen in the SAEM program are required to complete 24 hours total of independent job shadowing. This forces the student to make connections and network on his or her own to acquire the proper hours. My shadowing was done at Heinz Field. I credit the shadowing I did freshman year in the SAEM program to landing this internship." Read about Troy's internship experience.
Alexandria Delancey
Part-time event assistant at Phipps Conservatory and Botanical Gardens


"It's a great learning experience being an SAEM major. The professors do such a good job at giving us helpful advice and showing us all of our opportunities regarding jobs and internships. I'm a transfer student from the Community College of Allegheny County and I am very happy with the SAEM program and all that it offers." Read about Alexandria's experience.
Evan Schall and Craig Woolridge
Account service interns for New Perspective Communications
Schall: "Our big project as interns was to create a promotional video for the nonprofit organization, Pittsburgh Cares."

Woolridge: "My media management class with Dick Roberts, president of New Perspective, was the reason I obtained this internship." Read about Evan and Craig's internship experience.


Karley Ferlic
Completed internships with The Jim Rome Show, "The Real" talk show pilot and The Ellen DeGeneres Show

"The SAEM classes have prepared me with what to expect in the work force; both business and SAEM classes helped me learn how to conduct myself in the office and understand common vocabulary used in the industry." Read about Karley's internship experiences.



Stephanie Driscoll
Marketing intern for the Mario Lemieux Foundation


"My ultimate goal is to pursue the marketing side of the sports industry, but I am open to all of the different possibilities and opportunities offered in sports and beyond. Learning to be open to jobs you honestly didn't expect is one of the added benefits of the SAEM major." Read about Stephanie's internship experience.



Adam Valen
Marketing intern for Altar TV and Drusky Entertainment


"Ideally, I see myself working in live entertainment and concert promotions. I attended the Pollstar Conference in Los Angeles with the SAEM club this past semester. If you have an interest in live entertainment, you would definitely be interested in the SAEM program at Point Park." Read about Adam's internship experience.


Rachel Winkler
Ticket services and marketing intern for Jacob's Pillow Dance Festival


"After I was offered the internship position, I went to the SAEM faculty for their opinions. Professors David Rowell and Teresa Gregory praised this opportunity and I am pleased to have listened." Read about Rachel's internship experience.


Samantha Lynn
Associate intern in marketing for the Altoona Curve


"I've had countless opportunities to gain hands-on experience and meet with professionals currently working in the industry. Being a part of the SAEM club has also allowed me to gain hands-on experience in planning and executing events as well as attend professional conferences such as Pollstar Live! in Los Angeles." Read about Samantha's internship experience.


Evan Schall
Media relations intern for the Pittsburgh Pirates


"Ideally, I would like to get a job in sports, either in baseball or hockey … I believe I have done a good job of getting my foot in the door (at least in Pittsburgh) so hopefully I will be able to find a career doing what I love." Read about Evan's internship experience.



Hannah Finch
Intern for the company Walking Thumbs


"This experience is an amazing resume builder and I learn something new every day. I'm excited to see what connections and possibilities I am yet to discover." Read about Hannah's internship experience.

Ashley Dobransky
Disney College Program intern


"Now with Disney's training, I will have a great company to list on my resume and an entirely new set of skills in place for my next job. Overall, the parks and recreation industry is a fun way to learn the basics and interact with people from different cultures." Read about Ashley's internship experience.

Megan Hoffman
Marketing intern for the Pittsburgh Steelers


"As the marketing intern, many phone calls come to me so I must serve as the 'voice' of the marketing department. People call with questions, complaints, and seeking general information, so I need to know how to properly answer their questions and where to direct their inquiries. Also, I organize company sponsorship listings from the previous season and assist with events going on at Heinz Field." Read about Megan's internship experience.