#PittsburghMe: How the City Transforms Point Park Students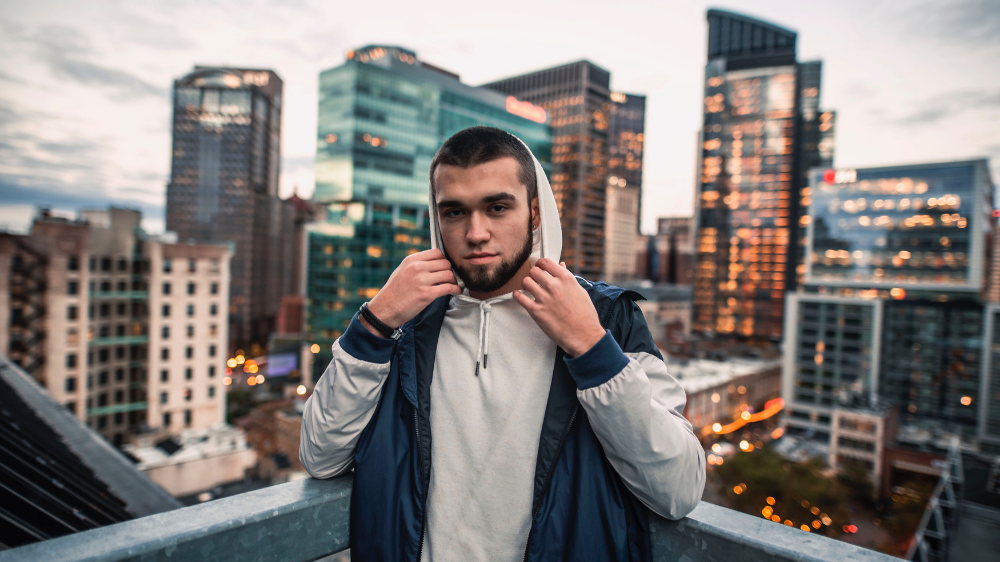 Downtown Pittsburgh Adds to Your Point Park Experience
We're asking students how Downtown Pittsburgh has transformed them during their time at Point Park.
In #PittsburghMe profiles, we'll introduce you to current students who will share their perspective on the Point Park University experience. Students from far away — and not so far away — will provide their take on how Downtown Pittsburgh and Point Park University have changed them for the better.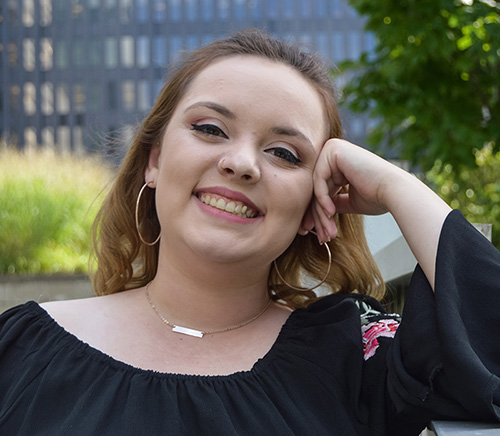 Funeral service major from Munhall, Pa.

What is the best piece of advice you've been given by a professor?
"You got this; everything will be okay." Although that is a simple statement, it is one of the most important pieces of advice I have received. This came from Dr. Mark Marnich. He saw that I was in need of some encouragement and by a simple statement was able to give me the support that I needed."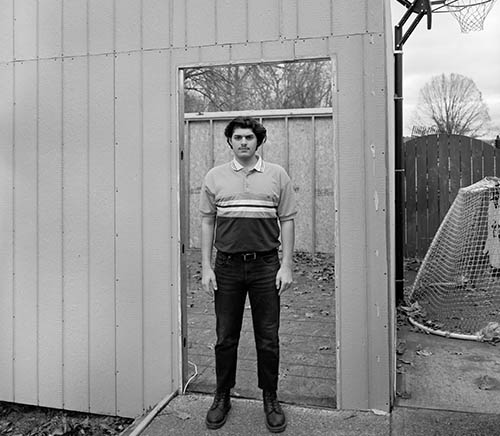 Photography major from Bridgeville, Pa.

Why did you choose Point Park University?
"The [photography] program is rigorous and demands a lot, but it fuels me every day to become the best artist ... Point Park has given me everything I need to become a successful artist and my professors have become sources of inspiration, and influence me as I continue to make work."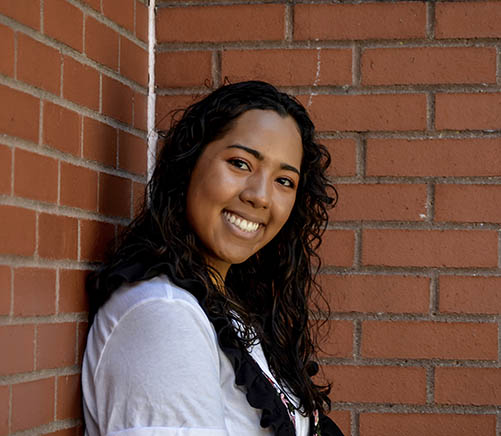 Dance major, Human Resource Management minor from York, Pa.

Why did you choose Point Park University?
"Point Park's dance program is ranked one of the 10 best in the country. There are so many successful alumni and I knew I would get a great education and experience overall."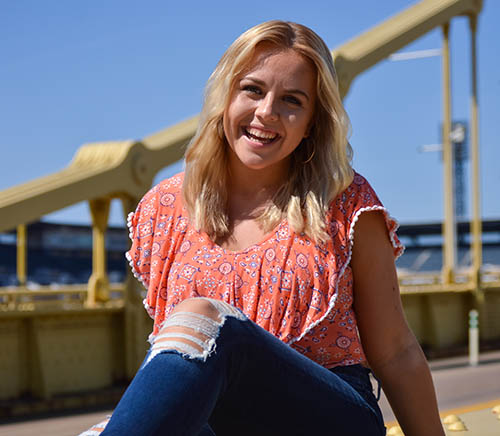 Broadcast Reporting major from Lower Burrell, Pa.

Why did you choose Point Park University?
"As an ambitious individual, I am always looking for new experiences and challenges to succeed in my career field. I chose Point Park because from the moment I started looking at this school, I knew it would provide me with exceptional hands-on experience both inside and outside of the classroom."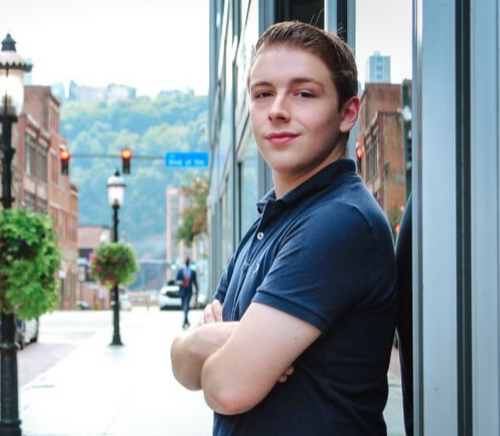 Sports, Arts and Entertainment Management major from Bolivar, Ohio

What opportunities have you had through your major?
"I've had many opportunities because of Point Park and my major. I traveled to New York and met industry professionals working at Madison Square Garden, The Lincoln Center, Barclays Center, Atlantic Records and other major companies. I also went to Los Angeles for the Pollstar Music Conference, where I was able to learn from some of the biggest names in the music industry. At the conference I met Khalid after hearing him speak about his music career. In addition to those experiences, I was president of the Sports, Arts and Entertainment Management Club my junior year, where I gained a large amount of experience producing, marketing and running events."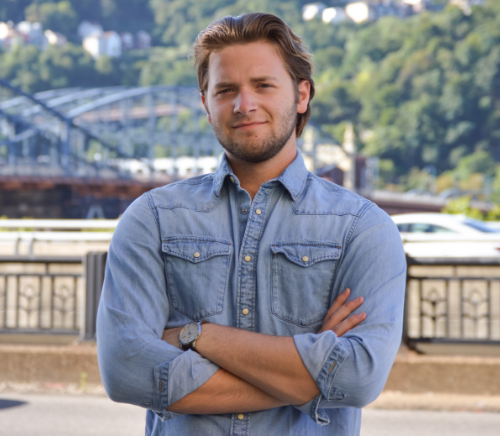 Cinema Production major from Mars, Pa.

Who is your favorite professor in the cinema program?
"I have been very fortunate to learn under numerous interesting and impactful professors, but I am particularly close with Professor Chris Sepesy. He teaches the history, foreign and genre-specific film courses, all of which have been very interesting to me. I think it is very important as an artist to expose yourself to a diverse range of art. Chris's classes have opened my mind to new thoughts and cultures. I am immensely grateful for his guidance and his support."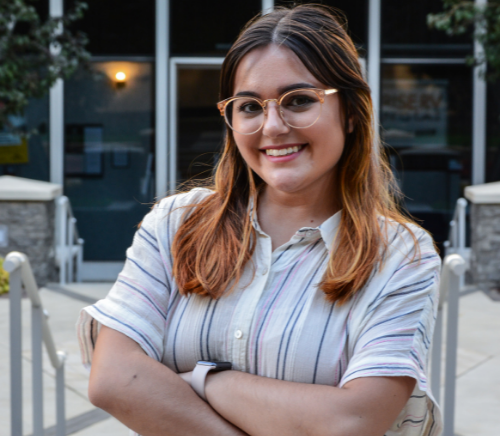 Sports, Arts and Entertainment Management major from Spring Hill, Fla.

You're interning with a local theatre. How has Point Park prepared you for this experience?
"I've interned with the Lamp Theatre Corporation the past two summers. I feel like I've known what this career was about my whole life, but the mandatory shadowing opportunity that I did with the operations manager of the Benedum Center prepared me a lot for this role. My marketing and sales classes have taught me so much that I actually use in the real world. I was challenged to plan an entire week of free programming for kids at the Lamp Theatre this summer - something we've never offered before. Because of Teresa Gregory's Event Management class, I felt confident planning the events."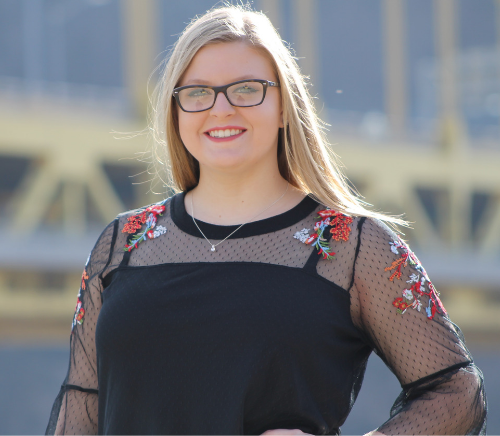 Broadcast Reporting major from Butler, Pa.

Tell us about your trip to Italy last year with the International Media Class.
"Aside from the incredible food, my absolute favorite thing about the trip was learning about the differences between Italian and American media and how vastly different the two are. Learning about my future profession in a country that already captured my heart made me fall that much more in love with both the country and my chosen career path. If you are debating on whether or not to travel abroad, do it. You will never regret it."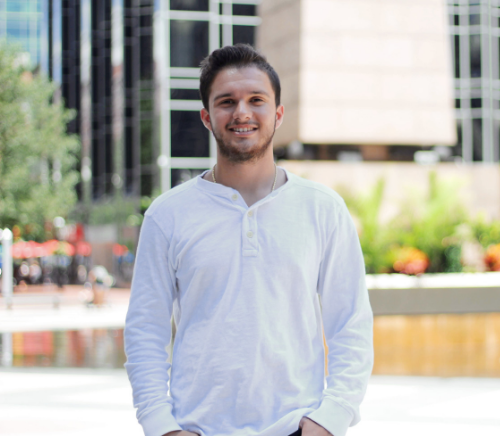 Information Technology major from Thurmont, Md.

What is your favorite college memory?
"My favorite college memory is when the outdoor men's track and field team won the conference championship. We had been taking second at conferences since the program started, so once we were able to push past the barrier it made the win that much better! On top of that, we only won by one point, making it all the more nerve-racking."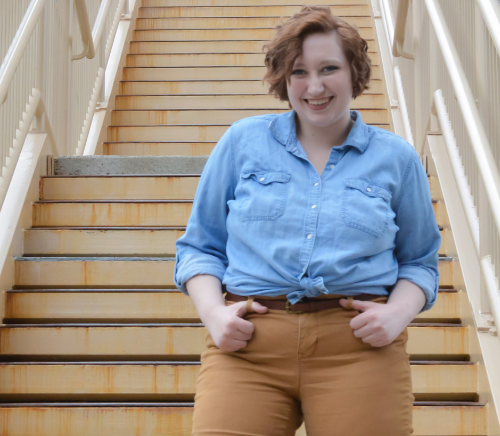 Public Relations and Advertising major from Brownsville, Pa.

Why did you choose Point Park University?
"I chose Point Park because it was everything I wanted in a university. Coming from a small town, I wanted adventure in the big city but didn't want to be just a face in a lecture hall. I also wanted opportunities to be involved on campus and to be able to make a difference. Point Park has given me all of that and more!"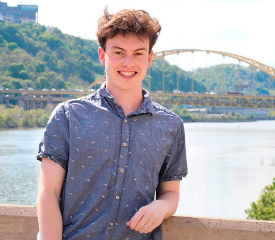 Musical Theatre major from Hazleton, Pa.

How are you involved on campus?
"Point Park has given me the space to support student art, as well as perform among my peers. Whether it's a dance, theatre or cinema production, I try my hardest to attend and always leave more inspired. I have been involved in several shows, both on the crew side learning the technical aspects of production and on stage, executing the technique I learn every day."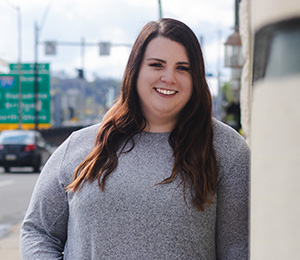 Sports, Arts and Entertainment Management major from Millersburg, Pa.

How did our co-op program help you land a job before graduating?
"The co-op program was one of the best opportunities I have had through Point Park! During my junior year, I reached out to Jessica Hobson and expressed my interest in the program because I had already heard great things about it. She walked me through every step with ease and found my perfect match with Flying Cork. Without my co-op experience, I would not have received a job offer two months before graduation. I am very grateful to work for a digital marketing agency that has given me so many unique opportunities already."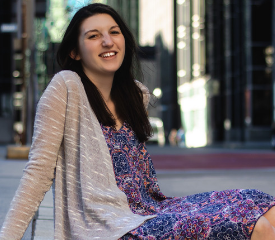 Broadcast Reporting major from Murrysville, Pa.

Why did you choose Point Park University?
"I chose Point Park because of its location, and because from day one you're learning hands-on skills in your major. In my first week as a freshman, I was running a camera and reporting on-air for U-View TV. In addition to that, the faculty and staff here are amazing. It's more interesting to learn from professors who are still active in the field."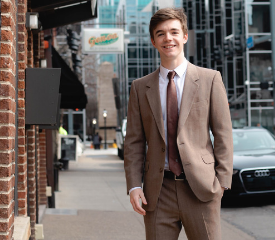 Sports, Arts and Entertainment Management major from Zanesville, Ohio

What advice would you give to incoming students?
"My best advice would be to relax and soak it all in. There isn't a single person out there who wouldn't fit in here. Point Park welcomes all religions, races, ages, sexual orientations and the students come from all walks of life. Every student brings value to the university in different ways, whether it's musical talent, performance art, athletic ability or academic excellence."
Journalism major from Lock Haven, Pa.

Where is your favorite spot in the city?
"I cannot lie to you when I say that I have spent over half my free time at Genoa's Pizza up the street. When I discovered that place during my sophomore year, I thought it was just another pizza joint. Here we are two years later, and Genoa's is the place where all of my friends and I come together to eat and hang out. It's close to campus and is such a great atmosphere."
Cinema Production major from LaFayette, N.Y.

What advice would you give to incoming students?
"It is more than okay to come to college nervous and a little scared, but don't let those nerves and uncertainties stop you from doing anything fun if you have the opportunity to do it."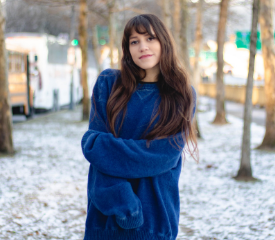 Dance and Psychology major from San Jose, Calif.

What is your favorite Point Park memory?
"My favorite memory is working at the National High School Dance Festival my freshman year. I was able to meet students from around the world and during the closing night gala, I was able to watch Point Park and Parsons Dance Company perform. It was a great experience being able to connect with so many different people and work at a festival that celebrates the art of dance."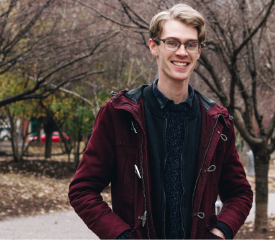 Cinema Production major from Erie, Pa.

Pittsburgh is a great food city. What is your favorite dish in the 'Burgh?
"I'm a huge Pamela's Diner fan and I have to say their blueberry flapjacks are my favorite. I simply love breakfast food and their secret recipe is to die for - just ask former President Obama. However, I also go crazy for a burger and milkshake from Burgatory. Nothing beats eating a fiddy-fiddy burger (patty made with 50% beef and 50% bacon) topped with guacamole and onion straws. An honorable mention goes to any of the mac n' cheese dishes from Harris Grill."
Mass Communication major from North Huntingdon, Pa.

What is the biggest difference between Pittsburgh and your hometown?
"As someone who lives less than an hour from Downtown but over the county line, Pittsburgh has much more to do culturally. The fact that I can walk less than 10 minutes down the street and see a touring Broadway show is amazing. Also, there are just so many good restaurants. And I love Millie's Homemade Ice Cream."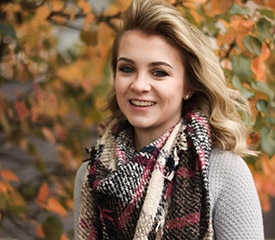 Public Relations and Advertising major from Butler, Pa.

Where can we find you hanging out in your free time?
"You can usually find me hanging out with my friends or roommates. Movie nights in my apartment are always a fun, relaxing way to unwind, but I also enjoy exploring the city and finding new coffee shops to try."
Broadcast reporting major from Export, Pa.

Tell us about your 'Live Like Fred' campaign.
"'Live Like Fred' is an idea started by me and my mother. We decided to go around the Pittsburgh area and interview people whom we call inspiring neighbors. These neighbors are living out the philosophies of kindness and love just as Fred Rogers taught us on Mister Rogers' Neighborhood. We want to inspire the next generation of neighbors to live like Fred by spreading positivity on social media and highlighting random acts of kindness."
Accounting major from Elizabeth, Pa.

How is your internship at Verland helping to prepare you for a job in your field?
"For several months I have been a fiscal intern at Verland, a non-profit organization that supports individuals with intellectual disabilities. My time here has been crucial in preparing me for a job in accounting and has introduced me to working in a professional setting. I have completed a variety of significant tasks and projects, both independently and with coworkers, taking what I've learned in the classroom and applying it to real financial situations."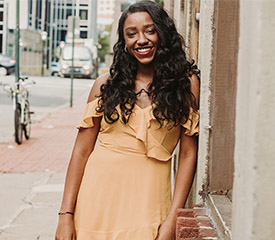 Musical Theatre major from Bronx, N.Y.

Tell us something unique about yourself.
"I am Puerto Rican and Cuban, so I identity as Afro-Latina. I am the founder and director of my own Afro-Latin dance company that is based in New York City called Afro-latinx. I started my company in high school when I realized that you are never too young to create, build a foundation in life and change the world even if it starts small."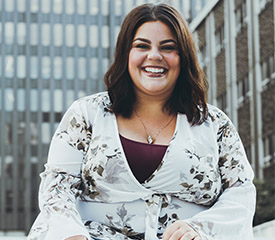 Sports, Arts and Entertainment Management major from Pittsburgh, Pa.

Tell us about your internship with Stage AE.
"I am a marketing intern with PromoWest Live at Stage AE in the North Shore. I get to do really fun things with the team like promotional events for upcoming concerts. One of the things I love to do is talk with people around the city about their favorite bands/artists and spread the word about Stage AE. We get to collect that data to try to eventually book those concerts. I also get to "street team," where I visit local businesses and distribute our upcoming shows calendar so everyone around town knows who's coming! This internship is by far one of the coolest experiences a student could have."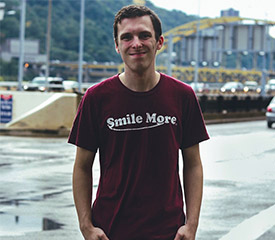 Theatre Production: Stage Management major from Bethlehem, Pa.

Why did you choose Point Park University?
"Not many schools offer a program for stage management. I knew that I didn't want to go to a large school where you become just a number, and the stage management program starts you off as a production assistant or assistant stage manager your first semester. Point Park offers so much from its Downtown Pittsburgh location. I never thought that I would be living in a city on the 14th floor of a building my freshman year, but I knew that it would be the different experience I was looking for."
Criminal Justice major from Buffalo, N.Y.

Who is your favorite professor and why?
"Richard Linzer! I came into the University as an undecided major, but after taking an Intro to Criminal Justice class with him, I was immediately sold. His lectures are always so interesting, especially because he has so many real-life experiences that he shares to further explain the topic being covered."
Psychology major from Oulu, Finland

What is the biggest difference between living in Finland and Pittsburgh?
"The biggest difference has been learning to express myself in another language and to understand and read others. Body language, wording and expressions are so different here, especially because in Finland all of those things are very reserved. It took me a while to get comfortable with small talk. Adjusting to another culture is always hard, especially because you have to step out of your comfort zone to reach your goals. However, understanding differences and learning about U.S. culture is what I love."
Business Management major from Lower Burrell, Pa.

What has going to school in Downtown Pittsburgh taught you?
"Going to school in Pittsburgh has taught me that anything is possible. I never knew that social media would become one of my passions on a professional level and I have been taught so much about it by professors such as Patrick Mulvihill and Robert Derda, organizations like the Campus Activities Board, and University Social Media Manager Felicia McKinney. I knew before starting school here that I wanted to work in marketing in some capacity, but being around so many sports teams and event planning groups in the city helped me realize that I want to go into social media marketing, a growing field that I don't think people realize the potential of just yet."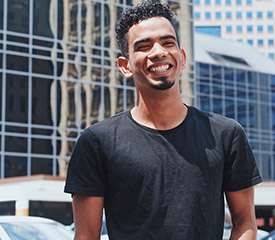 Sports, Arts and Entertainment Management major from Troy, Pa.

Tell us something unique about yourself.
"Something unique about me is that I'm originally from the Dominican Republic. I came to the United States when I was 12 years old. Coming to the United States was challenging at first because I didn't speak the language, which made it hard for me to communicate with students and teachers. Also, the culture was very different than what I was used to. I was blessed to have wonderful teachers and staff throughout middle and high school who wanted me to succeed and helped me overcome those challenges."
Public Relations and Advertising major from Edinboro, Pa.

Tell us about your work experience with Major League Baseball.
"I work for Major League Baseball as a live content creator with the Pittsburgh Pirates. In this position, I work for the MLB's social media team and attend most Pirates home games to gather content for the MLB, as well as the home and away teams. Most of what I do is photography. It has been incredible to see players and teams sharing my work on their respective social media platforms. I am having so much fun in this position and it has really confirmed that I am going into the right career."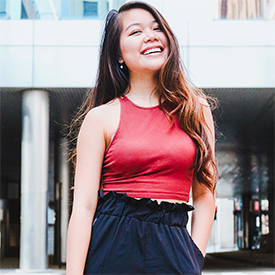 Cinema Production major from North Huntingdon, Pa.

How did you become a published writer before graduating high school?
"I was a part of speech and debate in high school when I discovered the Interp Store writing contest. I had written a short story about my grandma, edited it and didn't think much of it. I got an email one day that my story was selected to be published in an anthology for other students in speech and debate to buy/use when they compete! It was surreal to think someone across the country could be performing words I wrote!"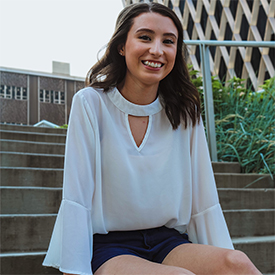 Political Science and Legal Studies major from Russell, Pa.

What advice do you have for incoming students?
"Enjoy college life. This is probably one of the only times in your life where you won't have to worry about paying bills or making your bed every day, so never take it for granted. Make friends, take pictures, travel often, and eat all of the pierogies Pittsburgh has to offer."
Public Relations and Advertising major from Pittsburgh, Pa.

What opportunities have you had through your major?
"The opportunities I have had here are endless. On top of the guest speakers that all of my professors bring in to talk and network with, I have had the chance to hold numerous leadership positions, attend conferences and take on six different internships."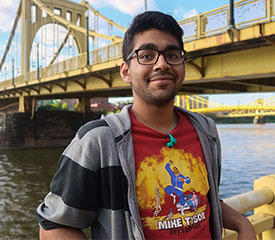 Multimedia major from Youngstown, Ohio

Why did you choose Point Park?
"A huge part of me choosing Point Park was its city location. I wanted to go to school in a place that felt alive, and Pittsburgh is overflowing with character. Plus, Point Park offered me an undeniable scholarship!"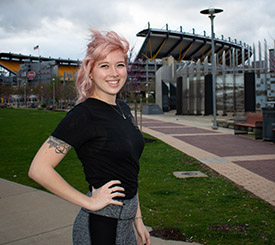 Multimedia major from Pittsburgh, Pa.

Why did you transfer to Point Park University?
"I chose Point Park because I was looking to transfer schools and find a major that better suited me and my interests. I saw that Point Park offered multimedia, and the courses and job opportunities sounded interesting and fun. I toured campus and Point Park seemed like a perfect fit. I decided to transfer, and man, was it a great decision."
Photojournalism major from Pittsburgh, Pa.

Tell us about your work as a photographer.
"For my own photography business, I have shot more than 25 weddings and have traveled around the world to take photos. I've been to Italy, Mexico, Aruba, Acadia National Park, Yosemite National Park and San Francisco. I've had the opportunity to take photos for the Philadelphia Public Record and I was a marketing intern for Terra Design Studios. Currently, I'm an apprentice for the Enrollment Marketing Department at Point Park. All of these opportunities have helped shaped me into the photographer that I am today."
Sports, Arts and Entertainment Management major from Plainfield, Conn.

Why did you choose Point Park University?
I chose Point Park for the urban location and small size. Coming from a small town where the nearest form of entertainment was 45 minutes away, it was very appealing that Pittsburgh has so much going on within walking distance to campus. Overall, this school was just too good to pass up.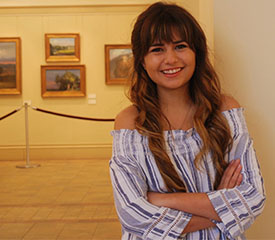 Public Relations and Advertising major from Pinetop-Lakeside, Ariz.

How does Pittsburgh compare to your hometown?
I come from a small town in Arizona. It's cold here, but I'm dealing with Pittsburgh's winter fairly well. A small town and a big city are usually very different. However, one similarity that I have found is that my hometown and Pittsburgh both have close-knit communities. Even if you aren't a local, you don't feel alone.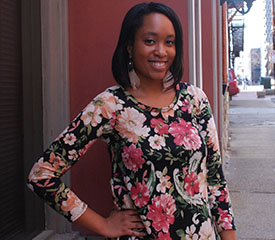 Theatre Arts: Performance and Practices major from Cranberry Township, Pa.

Where is your favorite place to study on campus?
My favorite place to study on campus is in the recently renovated library study rooms. They're quiet and spacious, and you can hook up your computer to the screen monitors for presentations and take notes on the desks! This makes collaborating for group projects so much easier, and allows an efficient work environment for studying. I love this new addition to the library.
Screenwriting major from Erie, Pa.

How is Point Park preparing you for the next steps in your life?
Point Park has prepared me by challenging me to become in-tune with who I really am and what I really want out of life. Aside from living right Downtown (which in and of itself has prepared me for my future), Point Park has provided me with many opportunities to discover who I am. I have been introduced to and befriended by some excellent people, I have failed and succeeded, and I have challenged the way I think in every way possible.